Yearn Finance (YFI) Reaches $ 50,000 Before Bitcoin (BTC)
Yearn Finance's governance token, YFI, reached a new milestone today, surpassing $ 50,000 for the first time in history.The earnings came about with an LLC registration for a prospective Yearn Finance Trust of Grayscale Investments , a New York-based cryptocurrency management firm. This prompted investors to increase their bids for YFI.
Bull Statement for YFI
Grayscale is collecting additional cryptocurrencies based on corporate demand. Therefore, analysts often view their purchases as bullish for related assets. The bulls believe this move will bring high-profile investments to the decentralized financial sector , as the firm has shown an interest in launching a Yearn Finance trust.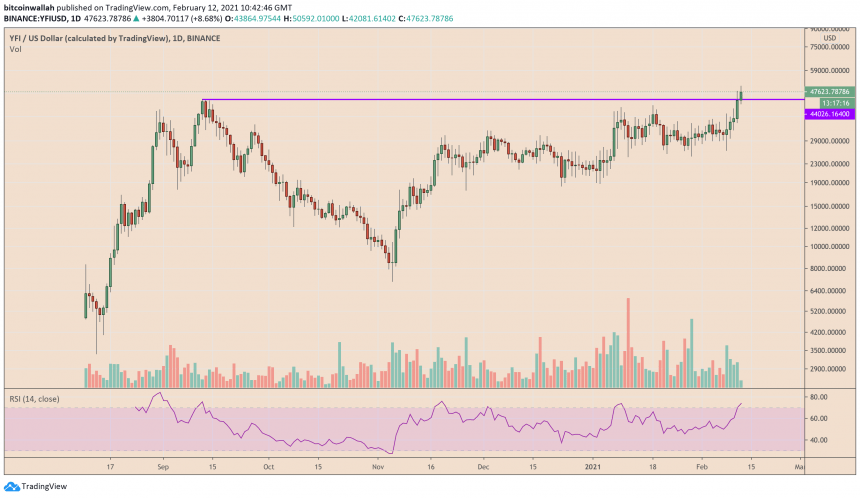 The YFI is therefore bullish today and reached as high as $ 51,859. YFI has gained 33% in the last 24 hours and 60% in the last 7 days. This way, the cryptocurrency has reached $ 50,000 before Bitcoin. YFI was trading at $ 50,846 at the time of writing.Traders expect the price to rise further. An anonymous analyst on Twitter stated that YFI could press for a valuation of $ 150,000 based on technical readings against Bitcoin . In retrospect, the YFI / BTC exchange rate showed signs of breaking through the bullish channel and forming a strong upward trend.
Analysts at Santiment used the following statements:
"The supply of YFI on the exchanges has been gradually falling since November 2020, when it saw the highest supply of coins on the exchanges since its launch and prices fell, indicating that the surrender has occurred. This gradual decline in YFI is healthy and positive as there is less selling pressure in the stock markets. "