Bitcoin
Whales Turn Their Bitcoins (BTC) into Cash
Whales Turn Their Bitcoins (BTC) into Cash
Whale Alert, who follows large cryptocurrency transactions and shares these transactions on Twitter, reported that crypto whales carry large amounts of Bitcoin (BTC), withdraw their assets from exchanges to anonymous wallets and Xapo, known as a cold storage vault.
Whale Alert has detected five major Bitcoin transfers made in the past 13 hours. 5,800 BTC worth about 90 million was transferred from Bitstamp, OKEX and Xapo wallets to unknown cryptocurrency addresses.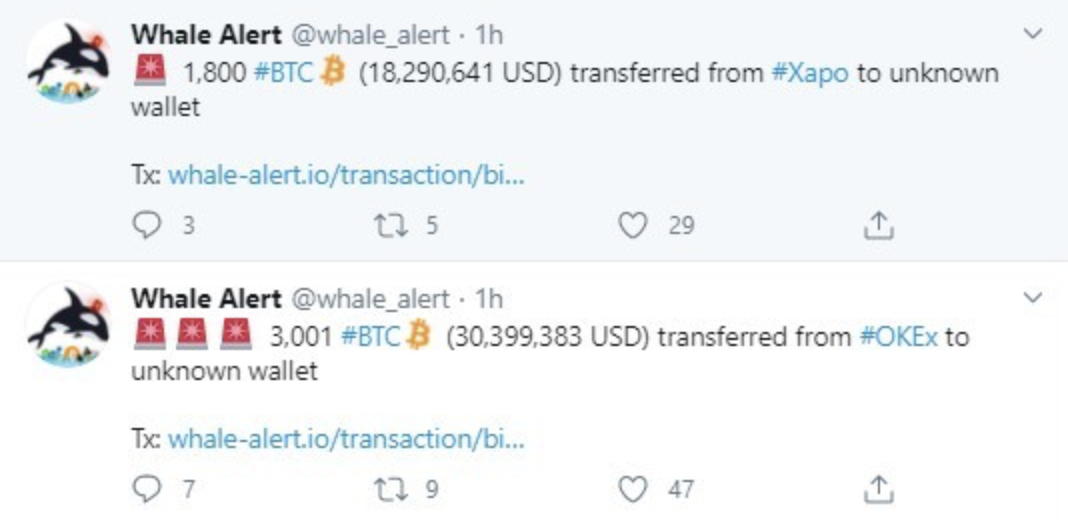 While Bitcoin tries to stay above the $ 10,000 support line, some users move their BTC to their Xapo wallet for long-term investment, but many major players in the cryptocurrency market are preparing to cash out their BTC.
According to data from CoinMarketCap, Bitcoin is being traded at $ 10,147 as of writing. The leading crypto currency fell to the $ 9,925 zone earlier today, making the markets nervous.
The disposal of assets by the major players of the cryptocurrency market will profoundly affect Bitcoin's potential uptrend. In the current war between sellers and buyers, if such a move comes from crypto whales, buyers will be in a difficult position.
What is Xapo?
Founded in 2013 by Xapo CEO and entrepreneur Wences Casares, Xapo acts as a secure and easy-to-access wallet for Bitcoin.
When Casares first bought Bitcoin in 2011, he was unable to find a storage device to store BTCs for a long time and built a safe for his own use only. Later, upon custody offers from friends and financial institutions, he enlarged his project and made it what it is today.
Xapo Wallet works online via a mobile application. Xapo has money transfer feature and bank card support to be processed like a standard debit card.