SEC Effect Could Push XRP Out of Top 10!
Not surprisingly, XRP lags behind the incredibly rising cryptocurrency market and altcoins. SEC's accusations against Ripple executives claiming that the token was an unregistered security hurt any upside momentum chances.It also caused the altcoin to fall further down among the top 10 cryptocurrencies by market cap, with sellers disposing of XRP and other cryptocurrencies flying too high, further accelerating this situation. At the time of writing, the top 10 were as follows:
XRP Falls to 7th Place
XRP was ranked third after Bitcoin (BTC) and Ethereum (ETH) for a long time. At times it has surpassed ETH and fell behind Tether at other times, but on average year-over-year, XRP has been ranked third for years.
This time, XRP ranks seventh after Binance Coin (BNB), Cardano (ADA) and Polkadot (DOT) for the first time in years . Altcoin has already lagged behind in terms of the crypto market for the past few years. However, after an unsuccessful break earlier this year, we can now easily see that this decline has reached significant proportions in comparison.
XRP had suddenly begun to rise at the end of the year to kick-start the altcoin season that has been going on for a while. However, this boom began to fade as the SEC sued the crypto parent company Ripple. Price action has fallen back on both USD and BTC pairs, and since then XRP has been trading mostly horizontally to some coordinated pumps and dumps along the way.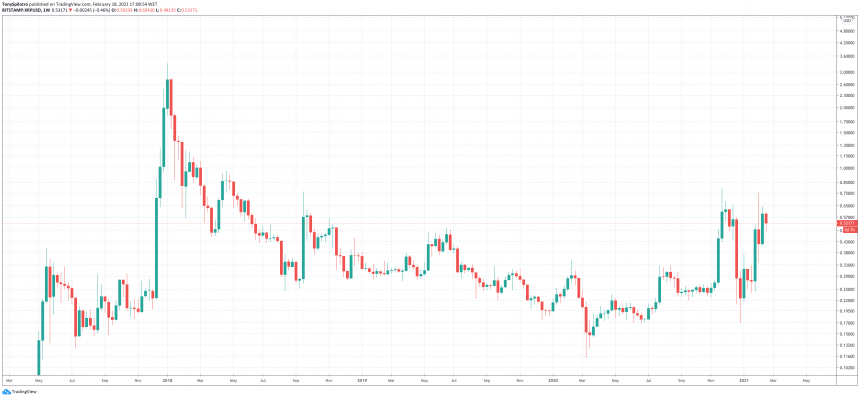 As XRP continues its horizontal movements, other altcoins are rising above their own values ​​and rising five times. As more and more cryptocurrencies are rising, XRP holders may turn to selling for profit elsewhere, regardless.
What Happens If Ripple Wins The Case?
However, if Ripple can eventually win the case , XRP could eventually make a significant comeback. According to analysts, XRP could have one of the biggest comebacks in cryptocurrency history in such a situation.
Ripple was trading at $ 0.56 at the time of writing.