Following New ATH, Ethereum (ETH) Whales Transported 330,000 ETH.
The Whale Alert monitoring service has detected a number of large ETH transfers between anonymous wallets. Ethereum whales carried about 330,000 ETH, which corresponded to $ 555,720,000 .
According to Whale Alert, almost a dozen ETH transactions, both large and small, have been processed in the past two decades, with a total of 330,000 ETH transferred. These transfers came after ETH reached its all-time high of $ 1,752 about twenty-two hours ago.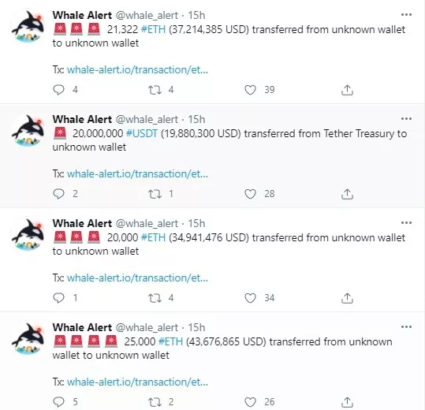 Ethereum (ETH) Sets New ATH, Bitcoin (BTC) Again $ 40,000
Leading altcoin Ethereum reached its all-time high at $ 1,752, while the leading cryptocurrency Bitcoin (BTC) has once again risen above the $ 40,000 level.
On Friday, February 05, the leading altcoin retreated above the $ 1,700 level for the first time, setting an all-time high. Some cryptocurrency commentators attributed the increase to the start of Ethereum futures at CME on February 8.
Bitcoin, the leading cryptocurrency, is also on the rise. Called digital gold, Bitcoin has rebounded to the $ 40,000 level in recent hours. Bitcoin (BTC) is trading at $ 40,298 as of the time of publication, according to CoinGecko data.