Ethereum (ETH) Shows Signs Of Weakness
Ethereum (ETH), which has been on the rise with a rapid acceleration in the past weeks , is showing some signs of weakness as it falls below the $ 390 level during the day.This level has become a slight support for the second largest cryptocurrency , and the ongoing wave of trade beneath it potentially undermines its technical strength.
Analysts offer a mixed perspective on Ethereum's future. However, the general consensus is that crypto money will experience a break in a short time. If ETH can jump from its current level, it can be positioned at much better levels in the short term.However, a downside break from this region could invalidate the bullish structure completely, causing major losses.
Analysts point out that the $ 380 level is a crucial level that should be fiercely defended by the bulls, as a break below this level could be enough to significantly lower its price in the short term.Another analyst points to a pattern that is rapidly forming and favorable to the bulls as a sign that the uptrend is imminent, and argues that retraction is normal before new peaks. It is a known fact that Ethereum is currently the strongest of all major altcoins.
Ethereum is trading at $ 395 as of writing. This level is trying to be strongly protected by the bulls. However, it is still unclear which side will win the war.Stating that a visit to the key support of $ 380 is imminent, the analyst stated that how ETH will react to this level will determine the short-term outlook.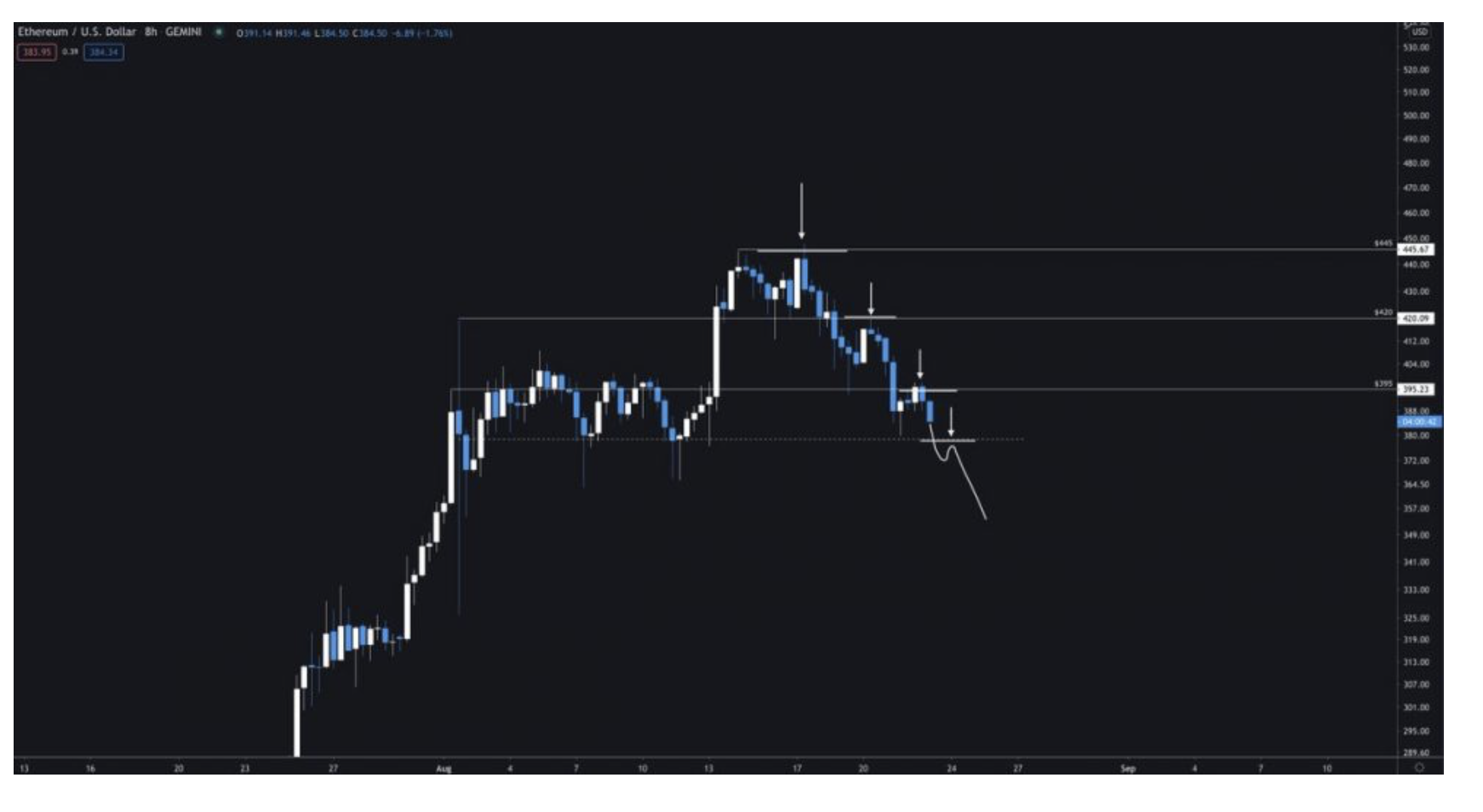 The popular cryptocurrency analyst, known as Farmer Bluntz, also recently shared on Twitter that the Elliot Wave model emerged in favor of the bulls and the largest altcoin is expected to rise to the highest annual level.
potential abc complete on $eth 4h.

can see a nice backtest of triangle breakout and would not be surprised to see a new high from here while everyone is now bearish.

still hands down the strongest of the majors imo pic.twitter.com/KKKvQoRWxG

— Bluntz (@SmartContracter) August 22, 2020
The conclusion to be drawn from the statements made by the analysts is that the resistance level of $ 380 for the biggest altcoin will be a turning point. With a downward break from the $ 380 level again, all of the recent revenues could be wiped out. However, if an upward break occurs otherwise, ETH is likely to hit the year's highs.