Ethereum (ETH) Amount In Exchanges Is Falling Hard!
According to data shared by Whale Alert, a total of 367,382 ETH has been withdrawn from leading exchanges such as Bitfinex, Binance, and other smaller exchanges in the past 20 hours. According to a U.Today report, a recent analysis report shows that the ETH balance on cryptocurrency exchanges has dropped to a 15-month low.
Whales Pulled $ 451,300,000 Million Ethereum (ETH)
Data shared by the Whale Alert service team, which tracks major cryptocurrency transactions, reveals that a total of 367,382 ETH (more than $ 451 million) has been moved in the past 20 hours, with about a dozen transactions.
Transfers mostly show that large amounts of ETH are exiting major exchanges such as Bitfinex and Binance. Some transactions took place between anonymous wallets.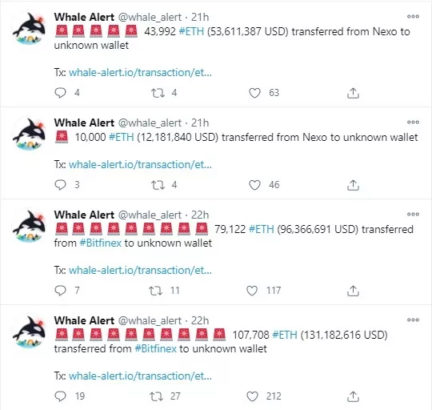 Ethereum (ETH) Amount In Exchanges Is Falling! What does this mean?
The Glassnode analysis team shared a tweet saying that users are actively buying and withdrawing Ethereum from cryptocurrency exchanges.
? #Ethereum $ETH Balance on Exchanges just reached a 15-month low of 15,423,305.652 ETH

View metric:https://t.co/1dCpD2ey8E pic.twitter.com/N8nIQJxbVY

— glassnode alerts (@glassnodealerts) January 23, 2021
Ethereum, the second largest cryptocurrency, reached its all-time high earlier this month at $ 1,448. This new record has created a strong belief in the cryptocurrency community that Ethereum will continue its upward trend. Price predictions of up to $ 10,000 and $ 20,000 have even been put forward for Ethereum. 
The sharp decline in the amount of Ethereum (ETH) in the exchanges can also be considered in this context. Those who think Ethereum will have a good rise may be attracting their ETH to hoard. In addition, this may be related to security concerns that have come to the fore recently. Those who want to secure their cryptocurrency assets may be withdrawing their ETH from exchanges for this reason.
The leading altcoin Ethereum (ETH) is trading at $ 1,260 as of the time of publication.