Dogecoin (DOGE) Price Analysis: 29 January 2021
The WallStreetBets community turned to the cryptocurrency market with the suspension of GameStop (GME) transactions traded on the US stock market on various intermediary platforms such as Robinhood and TD Ameritrade . The first target of the WallStretBets community was the popular crypto currency Dogecoin (DOGE).
Dogecoin, which took the WallStretBets wind behind it, recorded an increase of up to 400% during the day. However, there is a question in mind: Is the rise in Dogecoin just a pump or is it the first step of the long-term uptrend?
In addition to Dogecoin, after a short-term consolidation period, Bitcoin also took action with the share of Elon Musk. The popular cryptocurrency Bitcoin's market dominance also rose again to 64.4%.
Dogecoin Is Not Satisfied On The Uptrend
Dogecoin, which has increased by approximately 1,000% in the last week we left behind, is currently among the crypto currencies that investors are following with enthusiasm. Now let's take a look at the Dogecoin chart.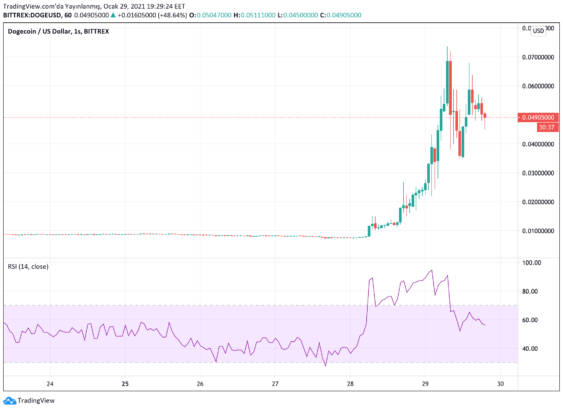 Dogecoin is currently in a bearish trend on the hourly chart. If Dogecoin continues to stay below the $ 0.05 level, the $ 0.025 level could be retested. On the other hand, as Dogecoin's RSI indicator is on the brink of the overbought zone, expectations for a drop are strengthening. Dogecoin could drop to the $ 0.028 level, its closest support, to gain strength for a new uptrend.
Dogecoin does not have enough liquidity to sustain its current rise in the long term. Therefore, the $ 0.014 levels could be retested. However, after such a massive rise, a price correction will follow. As of the moment our news was prepared, it is trading in the 0.49 dollar band.