Cardano (ADA) Price Analysis: 15 March 2021
In the past 24 hours, while Bitcoin (BTC) created a new ATH and exceeded $ 60,000, an upward momentum was observed in the general crypto market. Since then, the price of BTC has managed to rise slightly. Although the altcoin market has traditionally been highly correlated with Bitcoin, the uptrend has not been uniform. As Cardano (ADA) continues to trade in a narrow range, its sideways movement continues.At the time of writing, ADA was trading at $ 1.07 with a market value of $ 34.8 billion. Last week, the coin fell more than 5.5%. ADA has declined by over 4.7% in the last 24 hours.
Cardano 1-day chart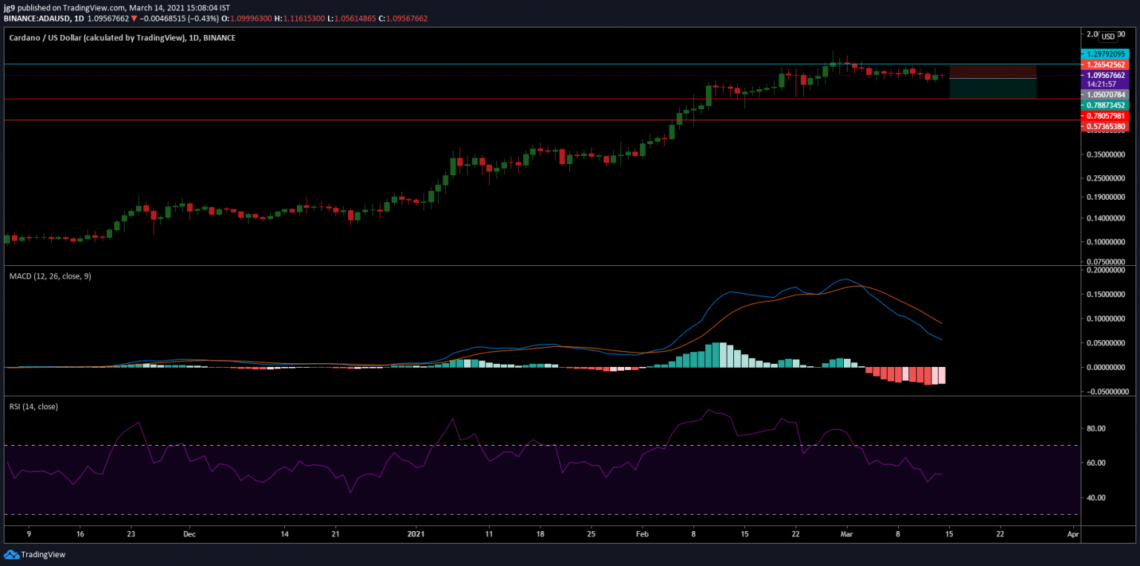 According to analyst Jude Lopez of AMBCrypto, Cardano price has remained in a narrow range last week. There is not enough momentum in the market for the price to move in both directions. The $ 1.29 resistance remains a formidable hurdle, and the last few days have seen the price fail to cross this range.
This has led to increased sideways movement, and given the overall bearish nature of the ADA's long-term market, it won't be long before the ADA moves towards the $ 0.78 support, according to Lopez. It can be argued that if the cryptocurrency does not see a strong upward momentum in the near term and the resistance level of $ 1.29 is not exceeded next week, the ADA's price is likely to see a fall and give traders with short positions an opportunity.
According to the analyst, the MACD indicator shows this downward trend in the ADA market. The signal line continues to hover well above the MACD line, and after the bearish trend, there doesn't seem to be any signs of reversal. The RSI indicator is heading towards the oversold zone and remains in the neutral zone.
Important Levels to Consider
Resistance: $ 1.29

Support: $ 0.78, $ 0.57
Result
The ADA price urgently needs to break its resistance. If the coin fails to cross the resistance level in the next 24 hours, it can be argued that a drop to the $ 0.78 support for ADA is inevitable. This is likely to happen within the next week, according to the analyst.