Bitcoin Investors Are On Sale! BTC Falls Below $ 8,600
Bitcoin (BTC) fell significantly after witnessing investors liquidating their assets. However, long-term Bitcoin traders are sure of a bigger bull run.
Bitcoin recently passed $ 9,200 and left Dow Jones. The ascension began on Friday and the bull run continued until the end of Saturday. However, Bitcoin traders started selling their assets after BTC / USD exceeded the $ 9,200 mark.
A big sale caused the BTC / USD to drop rapidly. BTC is now trading above $ 8,500. The upcoming Bitcoin half will take place on 12 May. Investors are afraid this time that BTC whales can manipulate the market.
Bitcoin (BTC) faces strong resistance at $ 8,979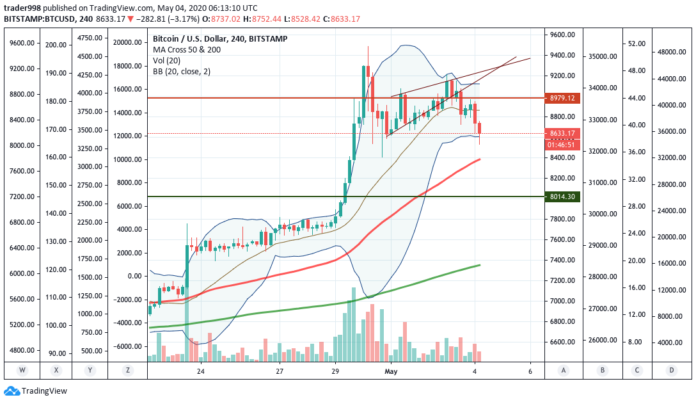 Vital points in this chart:
Bitcoin created a rising wedge with a downward trend. BTC started to drop after the pattern was broken. Since then BTC has dropped more than 6%.

Bitcoin lost critical support at $ 8,979.12. This level will now serve as a strong resistance.
There are Multiple Factors of Bitcoin's Fall
BTC traders have actually started liquidating their assets. But the key contributor behind this may be another approach of diplomatic war between China and the United States.
US Secretary of State Mike Pompeo said on Sunday that he has sufficient evidence of the coronavirus outbreak from a laboratory in Wuhan province of China. BTC / USD fell after this announcement. However, China continued to reject many of the US charges.
Not everything looks bleak for BTC / USD
Long-term Bitcoin investors are not affected by the latest developments. They are sure that Bitcoin will rise in the long run. The good news is that BTC has Dow's move away from swinging movements. Because BTC / USD was beginning to duplicate Dow Jones' moves.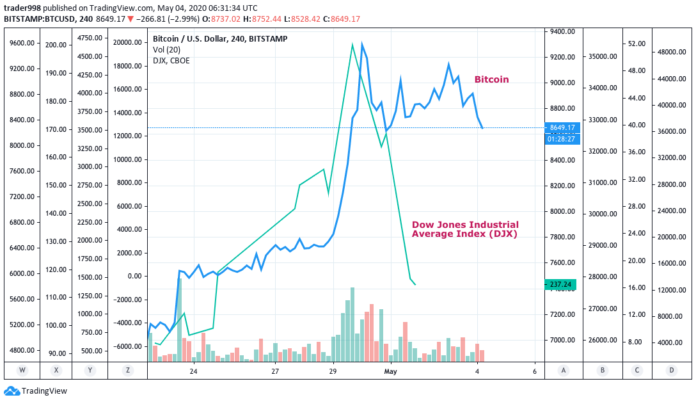 From this chart, we can observe that BTC previously queued the movement of the index. However, it has recently worked on the contrary of the index. This gives the impression that Bitcoin is expected to be bullish in the long run.