Binance Coin (BNB) Rises to 3rd Place, Leaving Tether (USDT) Behind
Binance's native token, BNB, has achieved a massive 40% gain in the past 24 hours while strengthening its market value to an all-time high.Binance Coin , which toppled many high-value cryptocurrencies , has increased its market cap to $ 36 billion today, which is more than the total Tether supply currently.
BNB reached its all-time high of $ 250 during the Asian trading session on Friday morning and became one of the best performing cryptocurrencies of the day.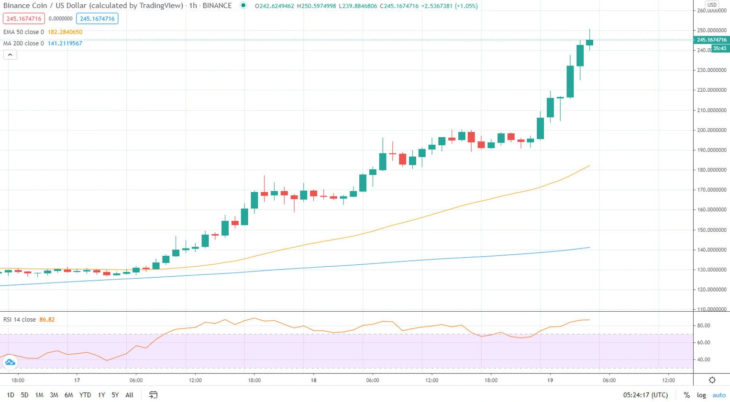 Over the past seven days, BNB has had a huge 87% success. However, it has achieved a 530% gain since the beginning of this year. BNB, which started gaining momentum on February 18, has not stopped its rise since then.This massive move has pulled XRP out of the top five for the first time in six years. BNB has settled behind Ethereum in a massive move, leaving Cardano, Polkadot and Tether behind.
As it should be!! #BNB TOP 3 #Binance is hands down contributing so much value to the space. Well deserved. pic.twitter.com/sSnTrxk9EG

— Joselito (@Joselito) February 19, 2021
Can it Overtake Ethereum?
Binance CEO Changpeng Zhao drew backlash from the community by commenting that the local token could convert Ethereum. Well-known cryptocurrency investor and industry watcher "DCinvestor" stated that beginning retail traders could be affected by such comments.
"ETH is not something that every new investor can use. While providing similar access to altcoins, anything that offers a chance to evade fees will be successful. Binance Chain currently holds this lead. "
In terms of market cap, Ethereum is at a distance of $ 220 billion. The token must be priced around $ 1,500 for BNB to catch it.
New DODO Yield Farm and BSC Momentum
The next momentum for BNB may be coming from the recent Launchpool announcement, a liquidity farm for DODO, a decentralized Chinese exchange running on Binance Smart Chain.As of February 19, Binance users can deposit BNB, the exchange's stablecoin , BUSD, and their first staking ETH or BETH on these three farms to earn DODO tokens to be distributed over the next five days .
For the first time, Binance offers compound staking opportunities for an asset that is already staked and locked on Beacon Chain.The DODO price has also doubled in the past 24 hours to an all-time high of $ 5.30, according to Coingecko.Binance Smart Chain and its projects have attracted great attention recently as transaction fees in Ethereum drive retail traders and DeFi beginners to more practical and cost-effective alternatives.