Analyst Waits For Consolidated Bitcoin (BTC) Price, Rally On Altcoins.
Bitcoin (BTC) sent off Friday with a strong drop. The cryptocurrency fell sharply to $ 34,000 on Friday morning after surging to $ 40,000.
The decline was weird because the cryptocurrency was performing very poorly than altcoins. Normally, during Bitcoin corrections, altcoins fall against the US dollar and BTC, but this time it wasn't the case. Bitcoin bounced back from daily lows to $ 36,200 after the drop.
An analyst expects some kind of consolidation that could lead to strengthening in the altcoin market in the coming days .
Bitcoin Can Go For Consolidation
A cryptocurrency analyst recently suggested that Bitcoin is likely to consolidate in the short term, which could result in an altcoin rally.
He shared the chart below showing Bitcoin's potential outlook ahead of the weekend. The chart shows that BTC is currently worth a basic support level and a number of key moving averages. This formation led him to suggest that the cryptocurrency will be consolidated over the weekend.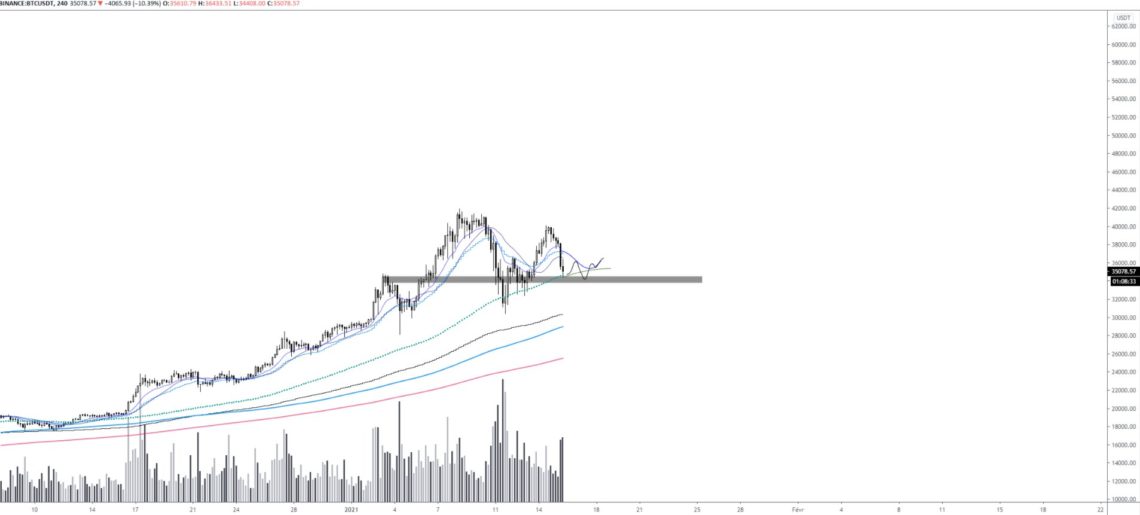 Trader used the following statements in his statement:
"Here is the short term (12-24 hours) possible outcome for #Bitcoin. 1) ETH / BTC consolidates when it is strong, 2) ETH / USDT leads, 3) It kills altcoins at the weekend, 4) Wait until Sunday 18.00 5) It emerges on Monday. "
It is argued that when Bitcoin is consolidated with the rise, this is the best time for altcoins to break.
Altcoin Rally Begins
What the analyst predicted seems to occur in real time. As this article is being written, the leading altcoins are starting to break seriously higher and largely surpass Bitcoin.
Altcoins like Curve DAO Token (CRV), Aave (AAVE), Chainlink ( LINK ) and many more are rising as Bitcoin enters some form of consolidation. This trend is likely to continue as long as BTC respects key support levels in the near term.