3 Things That May Cause XRP Price Drop!
Ripple 's XRP has increased more than 25 percent by 2020. However, the fourth-largest cryptocurrency still seems to slash those gains , according to a series of bearish indicators suggested by a TradingView.com analyst .
The analyst pointed out 3 points that will technically lead to a decline in XRP / USD. These include a long-term Moving Average wave, a Bearish Divergence between price and momentum, and a 'Death Cross'. Together, the three propose an extended dive towards $ 0.15, a classic support level 35 percent below the current rate.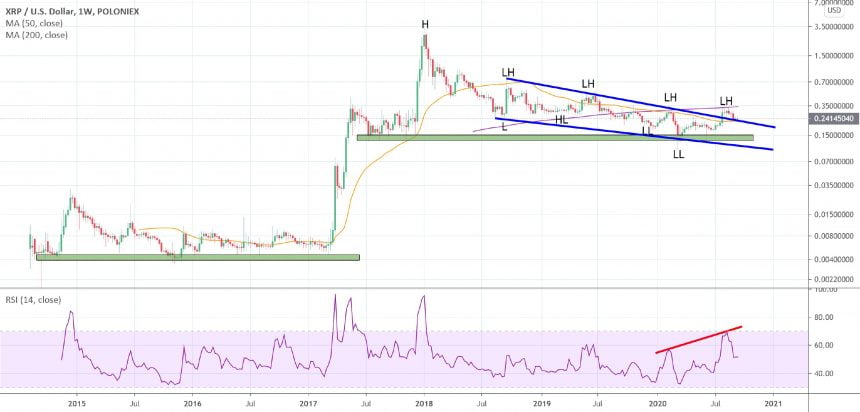 Price-Momentum Conflict
At first, the analyst highlighted the trail of lower highs and higher lows that XRP / USD has left behind since 2018. The pair recently broke above the downside channel (in blue), but a strong upward rejection average curve near the 200-week move threatened to push it back into the range.
The analyst used the following statements:
"You can see the price first drop below 200-WMA (in purple) in the summer of 2019. XRP has consistently failed to break above the 200-WMA. The last three major attempts there have been rejected. "
XRP has combined its bearish trend, especially the recent bearish wave, with the otherwise developing Relative Strength Index (RSI). The indicator reflects the strength or weakness of an asset based on the closing prices of the last trading period. The weekly RSI of XRP has risen – a sign of higher buying momentum despite the spot rate falling. The analyst said:
"This is a bearish differential that could lead to weakness in the coming weeks. Still, there was a breakdown in divergence in the RSI. "
Death Crossing in XRP
XRP was also trading downside under the influence of a Death Cross. This is a bearish indicator that occurs after an asset's long-term moving average closes above its short-term moving average. In the case of XRP, the weekly 200-WMA (purple) bounced over the 50-WMA (blue) in January 2020, creating the so-called bearish crossover.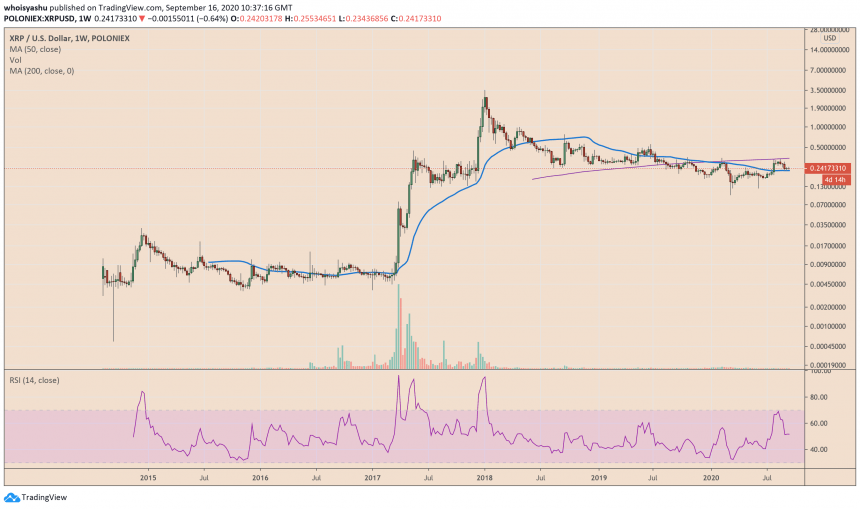 The analyst made the following statements in this regard:
"This is a sign of prolonged weakness."
Apart from these three reasons, low trading volume and volatility also left XRP's most recent upward move at a dubious stage. The token has attracted fewer traders over the past two years. This may have something to do with an ongoing class action lawsuit against its parent company, Ripple Labs, over whether XRP is safe.
The San Francisco-based blockchain startup reported its lowest quarterly sales in the first quarter of 2020, selling only $ 1.75 million worth of XRP.