3 Reasons Why Ripple (XRP) Price Rises.
Earlier today, the fifth largest crypto XRP managed to hit the $ 0.30 level, but later retracted. Now he is trying to heal at 0.30 limits. So why is XRP soaring?
According to CoinMarketCap, XRP, which was in trouble earlier today, managed to surpass the $ 0.30 level. The cryptocurrency has gained 9% in the last 24 hours.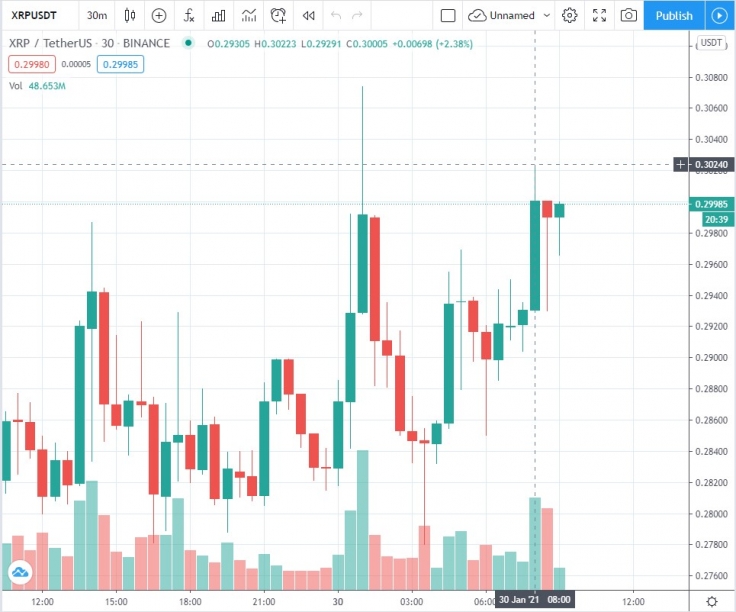 XRP was trading at 0.302 at the time of writing, according to CMC data. Here are the possible reasons for this rise:
1. Ripple Responds to SEC
On January 29, Ripple officially responded to the US security regulator who initiated legal action against him on December 21, 2020 . Ripple's general council, Stuart Alderoty, made the news in Ripple's latest blog post and summarized what happened for the audience.
He reminded the SEC that XRP is not a security, but a virtual currency (despite the regulator's claim that XRP is an unregistered security) and therefore the SEC is not in a position to deal with it. Ripple has never had an ICO, and owning XRP does not mean that its owners are entitled to receive any portion of Ripple's income and profits. In the defense, other claims of the SEC against XRP and Ripple were also discussed.
2.DOGE Excitement Fueled XRP Growth
Prominent analyst Luke Martin believes that when Dogecoin (DOGE) went down after a tremendous uptrend yesterday, funds started flowing from this meme coin to XRP.
Yesterday, DOGE managed to top the top 10 on CoinMarketCap twice, but then bounced back twice. At the time of writing, DOGE was ranked 13th on CoinMarketCap . DOGE was pumped by the r / WallStreetBets team that bought shares of GME and AMA, and the price soared significantly.
Seeing the DOGE community becoming more active, members of the large XRP community started calling on the XRP Army to start pumping XRP on social media.
3.Bitcoin Increase Encouraged by Musk
The rise of altcoins is often powered by the spike in the price of the leading cryptocurrency Bitcoin (BTC) . On Friday, BTC; Tesla CEO and one of the richest men in the world, Elon Musk 's Twitter bio rose from $ 32,250 to $ 38,092 about six hours after tagging Bitcoin in his biography.
The community and the market thought that Musk eventually surrendered to Bitcoin and adopted it. Musk's tweet, which many believe was about Bitcoin, was saved on the Bitcoin blockchain . After this huge rise, Bitcoin has returned to the $ 34,000 level so far.